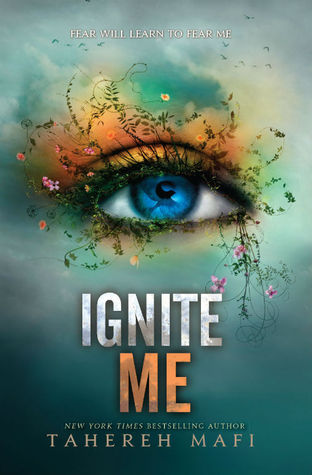 Title:
Ignite Me
Author:
Tahereh Mafi
Series:
Shatter Me #3
Publisher:
HarperCollins
Release Date:
February 4, 2014
The heart-stopping conclusion to the New York Times bestselling Shatter Me series, which Ransom Riggs, bestselling author of Miss Peregrine's Home for Peculiar Children, called "a thrilling, high-stakes saga of self-discovery and forbidden love."
With Omega Point destroyed, Juliette doesn't know if the rebels, her friends, or even Adam are alive. But that won't keep her from trying to take down The Reestablishment once and for all. Now she must rely on Warner, the handsome commander of Sector 45. The one person she never thought she could trust. The same person who saved her life. He promises to help Juliette master her powers and save their dying world... but that's not all he wants with her.
This was definitely the best book of the whole series! I can't even contain my excitement about it.
what i liked
Juliette has grown as a character so much. She's always been awesome, but by the end of Ignite Me, she's a total badass. It makes me excited now that Mafi is writing another book-I'm excited to follow Juliette more as this grown and developed character.
Warner and Juliette! I literally love them so much. They are perfect together. I will ship them until the end of time.
I actually liked Adam! Now that he's not with Juliette, he's become more likeable, especially with his brother.
So much happened in Ignite Me. I felt like there was never a dull moment. There was always something happening, which made me literally not put this book down the whole time I was reading it.
what i disliked