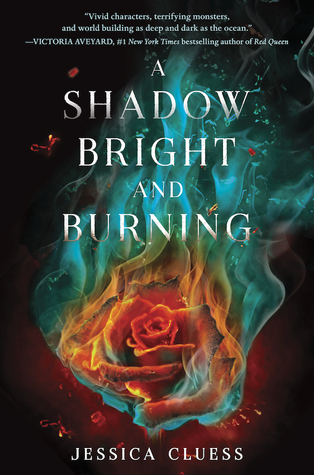 Title:
A Shadow Bright and Burning
Author:
Jessica Cluess
Release Date:
September 20, 2016
Publisher:
Random House BFYR
Source:
Publisher
Edition:
ARC
I am Henrietta Howel.The first female sorcerer in hundreds of years.The prophesied one.Or am I?
Henrietta Howel can burst into flames.Forced to reveal her power to save a friend, she's shocked when instead of being executed, she's invited to train as one of Her Majesty's royal sorcerers.
Thrust into the glamour of Victorian London, Henrietta is declared the chosen one, the girl who will defeat the Ancients, bloodthirsty demons terrorizing humanity. She also meets her fellow sorcerer trainees, handsome young men eager to test her power and her heart. One will challenge her. One will fight for her. One will betray her.
But Henrietta Howel is not the chosen one. As she plays a dangerous game of deception, she discovers that the sorcerers have their own secrets to protect. With battle looming, what does it mean to not be the one? And how much will she risk to save the city-and the one she loves?
Exhilarating and gripping, Jessica Cluess's spellbinding fantasy introduces a powerful, unforgettably heroine, and a world filled with magic, romance, and betrayal. Hand to fans of Libba Bray, Sarah J. Maas, and Cassandra Clare.
**Thanks so much to the publisher for allowing me to read this in exchange for an honest review!**
I honestly don't read enough fantasy novels, so I was incredibly happy to have the chance to read A Shadow Bright and Burning.
Not only is does it have fantasy vibes, it has a setting of Victorian London! Like, how cute is that!? I love the Victorian era in London. It was my favorite era that we read novels from in my English class. There's just something about it and it's very steampunk. That just made this novel even more awesome!
It has these pretty strong girl power vibes, which I loved. There are really no sorceresses. Every person that's allowed to wield magic is a male in this world. Yet, Henrietta is a female with power and she seems to be really strong.
There does seem to be a bit of a long triangle going on. I didn't really think that it was a strong point in the novel because the focus of the plot is really elsewhere, but there are two guys that definitely seem to be love interests for Henrietta. I definitely had a favorite, though I don't want to give that away.
The world was so interesting. I loved how Cluess really included a lot of information about the world without it seeming like info dumping. I've had to DNF books in the past because of info-dumping!
A Shadow Bright and Burning is one 2016 release that you're honestly not going to want to miss.