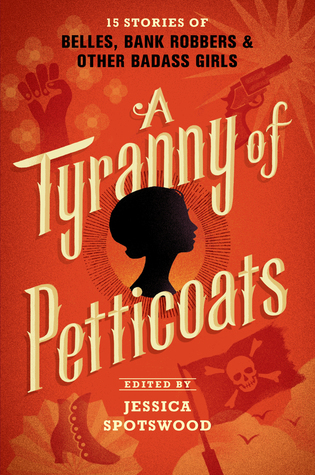 Title:
A Tyranny of Petticoats: 15 Stories of Belles, Bank Robbers, & Other Badass Girls
Edited by Jessica Spotswood
Publisher:
Candlewick Press
Release Date:
March 8, 2016
Source:
Publisher for Review
Genre:
Historical
Edition:
eBook
From an impressive sisterhood of YA writers comes an edge-of-your-seat anthology of historical fiction and fantasy featuring a diverse array of daring heroines.
Criss-cross America-on dogsleds and ships, stagecoaches and trains-from pirate ships off the coast of the Carolinas to the peace, love, and protests of 1960s Chicago. Join fifteen of today's most talented writers of young adult literature on a thrill ride through history with American girls charting their own course. They are monsters and mediums, bodyguards and barkeeps, screenwriters and schoolteachers, heiresses and hobos. They're making their own way in often-hostile lands, using ever weapon in their arsenals, facing down muderers and marriage proposals. And they all have a story to tell.
With stories by:
J. Anderson Coats
Andrea Cremer
Y.S. Lee
Katherine Longshore
Marie Lu
Kekla Magoon
Marissa Meyer
Saundra Mitchell
Beth Revis
Caroline Richmond
Lindsay Smith
Jessica Spotswood
Robin Talley
Leslye Walton
Elizabeth Wein
**Thank you so much to the publisher for allowing me to read this in exchange for an honest review!**
To be honest, I've not read that many anthologies. The only other ones I've read are
Press Start to Play
and
Summer Days and Summer Nights.
That's why I knew that
A Tyranny of Petticoats
was one that I wanted to check out, especially because I absolutely loved the other anthologies that I've read. There's just something about short stories. I get attached to the characters and then they're gone forever within twenty pages. There's just something magical about them.
Of course I was most excited for the stories by Marissa Meyer, Beth Revis, and Marie Lu. I really liked Meyers and Revis's but Marie Lu's story was actually one that I didn't enjoy all that much which was sort of a disappointment since her story was right in the beginning. I of course ended up loving some other stories as well, such as Elizabeth Wein's.
Upon researching the novel a bit on Goodreads, I actually saw that there's going to be another anthology within the same sort of genre by different authors! I'm definitely going to be checking that out when it finally releases because I definitely enjoyed this one.