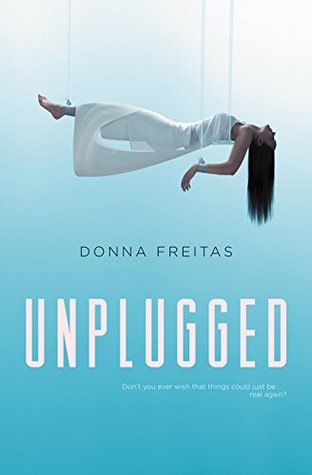 Title: Unplugged
Author: Donna Freitas
Publisher: Harper Children's
Release Date: June 21, 2016
Genre: Science Fiction
The first book in a provocative new series from acclaimed author Donna Freitas-Feed for a new generation.
Humanity is split into the App World and the Real World-an extravagant virtual world for the wealthy and a dying physical world for the poor. Years ago, Skylar Cruz's family sent her to the App World for a chance at a better life.


Now Skye is a nobody, a virtual sixteen-year-old girl without any glamorous effects or expensive downloads to make her stand out in the App World. Yet none of that matters to Skye. All she wants is a chance to unplug and see her mother and sister again.




But when the borders between worlds suddenly close, Skye loses that chance. Desperate to reach her family, Skye risks everything to get back to the physical world. Once she arrives, however, she discovers a much larger, darker reality than the one she remembers.


In the tradition of M.T. Anderson's Feed and Scott Westerfeld's Uglies, Unplugged kicks off a thrilling and timely sci-fi series for teens from an award winning writer.
There's something about science fiction novels that always get me excited. They're just so otherworldly and interesting to the point where I always get totally immersed in the world. Unplugged was absolutely in this same category!
The story follows a girl named Skye who lives in the App World. It's basically a virtual version of the real world, though everyone is pretty much the same. Skye has no idea what she looks like and hasn't seen her family since she was five years old. That's why she's always been looking forward to leaving for Service, which every child is allowed to do in the App World. It basically means that they are unplugged and are allowed to finally see the real world. However, all of this is thrown astray when the link between the App World and the Real World is broken. '
I think my most favorite part of this story was the world that Freitas created. An App World where basically only the rich live and thrive was extremely intriguing. There are many people there called Singles who are the only people in their family that are in the App World like Skye, too. Basically everyone can just buy apps that do absolutely anything. They could suddenly have longer legs or even have wings to fly. It was just so cool!
Skye was a very interesting character. I especially liked how the reader learned more about her. Her family basically put her into the world when she was too young to really understand what was going on. They wanted a better life for her and became Keepers, which means that they are in charge of the plugs. I also really liked how Skye evolved as a character as the story went on.
Unplugged was one of my most anticipated reads of the year and I honestly have to say that it did not let me down. I'm even more pumped that the book is the first in the series. I can't wait for book two!
Donna Freitas is the author of both fiction and nonfiction, and she lectures at universities across the United States on her work about college students, most recently at Colby, Pepperdine, Harvard, and Yale. Over the years, she has written for national newspapers and magazines, including

The Wall Street Journal

,

The New York Times

,

The Boston Globe

, and

The Washington Post

, and she's currently a non-resident research associate at the Center for Religion and Society at Notre Dame. Donna has been a professor at Boston University in the Department of Religion and also at Hofstra University in their Honors College.
In 2008, Donna published

Sex and the Soul: Juggling Sexuality, Spirituality, Romance and Religion on America's College Campuses

with Oxford University Press, based on her national study about sex on campus. Her latest book is called

The Happiness Effect: How Social Media is Driving a Generation to Appear Perfect at Any Cost

(Oxford, October 2016), and it is based on her research for a new study about social media and how it is effecting the ways we construct identity and sense of self, how we make meaning in the world, and navigate our relationships during college. In 2014 and 2015, Freitas conducted approximately 200 in-person interviews with college students at thirteen different colleges and universities, and collected nearly1000 online surveys about these subjects.
Donna is also the author of six novels for children and young adults, including

The Survival Kit

(FSG, 2011), named an ALA Best Books for Young Adults and the winner of the Bookstar Award in Switzerland, and

This Gorgeous Game

(FSG, 2010), also named an ALA Best Books for Young Adults, a winner of the CCBC Choice Award, and a Chicago Public Library Best of the Best winner. Her novel,

The Possibilities of Sainthood

(FSG, 2008), received five starred reviews and many accolades, including: an Indie Next Kids' List Great Read, Society of School Librarians International Book Award Honor Book, VOYA Top Shelf Fiction for Middle School Readers, and the Texas Lone Star Reading List. Donna has also published two middle grade companion novels with Scholastic, Gold Medal Summer (about a gymnast) and Gold Medal Winter (about an ice skater), which just won a CCBC Choice Award. In June,

Unplugged

the first novel in her sci-fi trilogy about two competing worlds, one real, one virtual, will be out in June from HarperTeen. She lives in Brooklyn.
Tour Schedule:
Week 2:
3 Finished Copies of UNPLUGGED (US Only)
a Rafflecopter giveaway