Wow, a whole month of January 2016 has already gone by! Somehow, I read 18 books this month, and I don't know how in the world that happened. Actually, it may be 19 now, since I'm writing this the day before it goes up! So yeah, 18 or 19 books. That's insane!
Books Read:
Thief of Lies by Brenda Drake
Not Okay Cupid by Heidi R. Kling
This Song is (Not) For You by Laura Nowlin
This is Where it Ends by Marieke Nijkamp
Heart of Darkness by Joseph Conrad
The Girlfriend Request by Jodie Andrefski
The Heir and the Spare by Emily Albright
Lois Lane: Cloudy With A Chance of Destruction by Gwenda Bond
Sinner by Maggie Stiefvater
Everything Leads to You by Nina LaCour
Simon vs. The Homo Sapiens Agenda by Becky Albertalli
Thicker Than Water by Kelly Fiore
The Year We Fell Apart by Emily Martin
The Yearbook by Carol Masciola
Identity Crisis by Melissa Schorr
Because You'll Never Meet Me by Leah Thomas
Crown of Midnight by Sarah J. Maas
The Secret to Letting Go by Katherine Fleet
Favorite Book of the Month: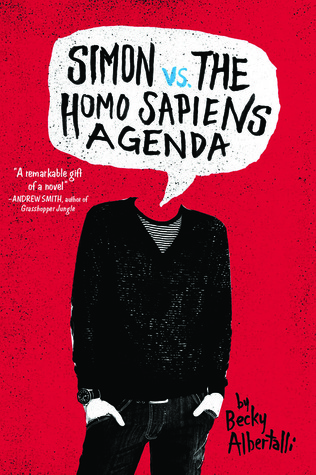 Favorite Cover of the Month:
What I've Been Watching:
Once Upon a Time! I don't know how, but I've managed to get halfway through season 3 this month. Yes, that means I also watched seasons one and two...
I also finished Parks & Recreation because the last season went up on Netflix and I couldn't resist. I think my favorite episode was definitely the Johnny Karate one.
What I've Been Listening To:
The Hamilton Musical CD! IT'S SO CATCHY, I LOVE IT.
February TBR:
Firstlife by Gena Showalter
How Willa Got Her Groove Back
Marked
Burning Midnight
Breaking Sky
The Truth
Bluescreen by Dan Wells
and anything else that I decide to read!
What was January like for you? What're your February plans?