I honestly can't believe that it's already November. I feel that I just finished doing my October wrap up and now it's December already! Anyway, I'm super excited because it's the month of Christmas and my birthday is next month! This is seriously my favorite time of the year. :)
Onto the books! I didn't read as much this month, and I'm not exactly sure why. It may have something to do with the fact that I've been watching tons of Grey's Anatomy. I'm finally on season 11! I can't wait to be almost completely caught up. I figure after season 11 I'll finish up the seasons of Dr. Who on Netflix, which I tried doing last winter.
Hardwired by Trisha Leaver and Lindsay Currie
★★★★☆
Infinity Lost by S. Harrison
★★★★☆
Abby and the Cute One by Erin Butler
★★★★☆
Gulliver's Travels by Jonathon Swift
★★★☆☆
For the Record by Charlotte Huang
★★★★☆
Nexis by A.L. Davroe
★★★★★
Ascendancy by Karri Thompson
★★★★☆
Did I Mention I Love You? by Estelle Maskame
★★★★☆
Placebo Junkies by J.C. Carleson
★★★★☆
December TBR
This month, I'm trying to significantly decrease all of my review books. I want to really limit myself in the next year. Currently, the list is pretty long but I've already read 5 of them so that's pretty good!
Favorite Book of October 2015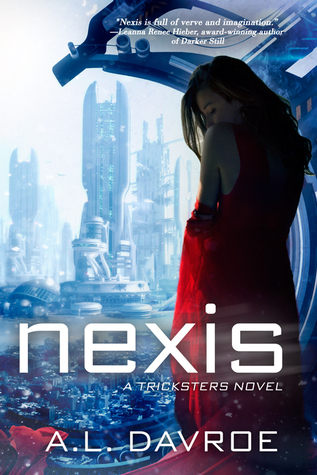 Favorites in Each Genre
Contemporary | Abby and the Cute One by Erin Butler
Science Fiction | Nexis by A.L. Davroe
Fantasy | N/A
Paranormal | N/A
Graphic Novel | N/A
Favorite Cover of the Month
Favorite Characters of the Month
Boy | Ella from Nexis
Girl | Guster from Nexis
Favorite Setting of the Month
I loved the virtual reality world in Nexis! If you couldn't tell already, I absolutely loved that book!
What was your month of November like for reading?