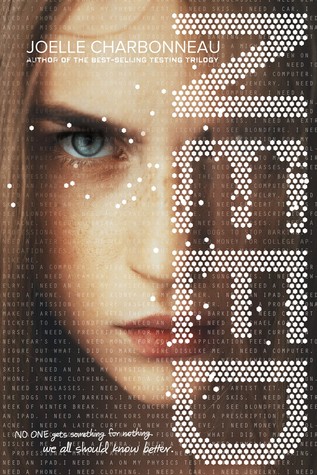 Title:
NEED
Author:
Joelle Charbonneau
Publisher:
HMH Books for Young Readers
Release Date:
November 3, 2015
Genre:
Thriller
Source:
Netgalley
Edition:
eARC
"No one gets something for nothing. We all should know better."

Teenagers at Wisconsin's Nottawa High School are drawn deeper into a social networking site that promises to grant their every need . . . regardless of the consequences. Soon the site turns sinister, with simple pranks escalating to malicious crimes. The body count rises. In this chilling YA thriller, the author of the best-selling Testing trilogy examines not only the dark side of social media, but the dark side of human nature.
**Thank you so much to HMH Books for Young Readers for allowing me to read this in exchange for an honest review!**
NEED was an extremely creepy and mysterious thriller read. The story follows many different characters, though the main story seems to revolve around Kaylee whose brother was sick and needed a transplant. Her best friend, Nate found out about a website called NEED when he was at her house. When you sign up for the website, it asks only one question: What do you need? Once you answer, you're asked to do some tasks. If you do the tasks, your need is granted soon after. However, NEED starts to have some seriously creepy tasks, and some people will do absolutely anything to get what they "need".
I really liked the idea behind this book. It really showed the difference between desires and needs and it also showed the limits that humans don't really have when it comes to getting those.
This book was utterly creepy and I was constantly on my toes. I really liked Kaylee as a character, though throughout a lot of the book I thought that I knew who the person behind NEED was. By the end, I was so wrong. The actual person was such a minor character that I hadn't even realized they'd be such a huge reason for everything going wrong in the end. I especially hated Kaylee's mom though. Bad things started happening surrounding her kids and she just blamed Kaylee for all of it and up and left her! What kind of mom logically does that?
Besides that, I really enjoyed NEED and I definitely recommend you pick it up if you're looking for a thrilling mystery!