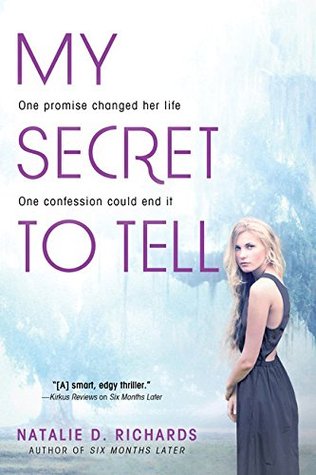 Title:
My Secret to Tell
Author:
Natalie D. Richards
Publisher:
Sourcebooks Fire
Release Date:
October 6, 2015
Genre:
Mystery
Source:
Publisher for Review
Edition:
eARC
There was blood on his hands. Where was the guilt in his eyes?
Emmie's had a crush on her best friend's brother forever. Deacon is the town bad boy who's always in trouble, but she sees his soft side when he volunteers with her at the local animal shelter. She doesn't think he's dangerous…until he shows up in her bedroom with blood on his hands.
Deacon's father has been violently assaulted and Deacon is suspect number one. Emmie's smart enough to know how this looks, but she also knows Deacon's biggest secret—he's paralyzed by the sight of blood. She's sure he didn't do this. Or did he? Because even Deacon's own sister thinks he's guilty…
**Thank you to Sourcebooks Fire for allowing me to read this in exchange for an honest review!**
After reading Six Months Later by Natalie D. Richards last year, I knew that I would read absolutely anything else that she wrote. That's why I ultimately decided to give My Secret to Tell a read.
My Secret to Tell follows a teenager named Emerson whose best friend's father was just brutally hurt. Everyone keeps pinning the near-murder on her best friend Chelsea's brother, Deacon. However, she knows very well that it was not Deacon because he's completely scared of blood and has been ever since he was a child. In addition, she always helps Deacon clean up his blood when he's injured. As a matter of fact, she cleans blood off of him right after his father gets hurt. Throughout the story, Emmie works to try to prove Deacon's innocence.
Sadly, this story fell short for me because I kind of fleshed out who caused the incident very soon after the story began. I'm finding that it's hard for me to enjoy mysteries because a lot of the time I can figure out who it is and I don't much like that. My suspicions were only questioned once towards the very end of the story, though the next page just rose them again because it finally admitted who did it all.
Despite that, I really loved the characters. Emmie was very sweet and I loved how hard she worked to prove Deacon's innocence. I felt horrible for Deacon often because everyone was just throwing him under the bus without question. It was obvious that he wasn't the kind of person to do such bad things. However, My Secret to Tell was still a pretty enjoyable read and I'd still pick up anything else that Natalie writes.