Hey guys! Today I am lucky enough to be part of the Signs Point to Yes blog tour!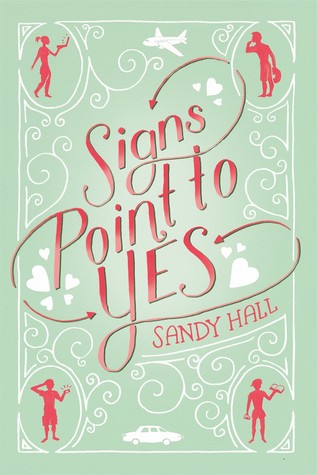 Title:
Signs Point to Yes
Author: Sandy Hall
Publisher: Swoon Romance
Release Date: October 20, 2015
Genre: Contemporary
Pages: 288
The author of A Little Something Different brings you the most adorkable romance ever.


Jane, a superstitious fangirl, takes an anonymous babysitting job to avoid an unpaid internship with her college-obsessed mom. The only problem? She's babysitting the siblings of her childhood friend and new crush, Teo.



Teo doesn't dislike Jane, but his best friend Ravi hates her, and is determined to keep them apart. So Teo's pretty sure his plans for a peaceful summer are shot. His only hope is that his intermittent search for his birth father will finally pan out and he'll find a new, less awkward home. Meanwhile, at Jane's house, her sister Margo wants to come out as bisexual, but she's terrified of how her parents will react.




In a summer filled with secrets and questions, even Jane's Magic 8 ball can't give them clear answers, but Signs Point to Yes.
Lately, I've been a huge fan of contemporaries. It's odd, because if you asked me about a year ago, I would have said I wasn't the biggest fan. However, this year, I've been loving them! Therefore,
Signs Point to Yes
was no exception.
Signs Point to Yes
is about a girl named Jane who gets a job babysitting a boy named Teo's younger sisters for the summer. The two of them end up having a bit of a romance, which I'm sure you could tell from the title. They end up spending quite a bit of time together that summer.
Jane was a very sweet character. I felt bad for her because her parents had such high standards for her just because of her older sister, Margo. Margo had done so well in school and went on to a good college, and they want the same for Jane, though Jane isn't sure she wants that. Jane doesn't want to spend tons of money on education when she doesn't even know what she wants to do with her life. The only reason she got the babysitting job in the first place was even because she went behind her mother's back after her mom had gotten her an internship and she instead went and got herself the babysitting job. I'd hate having such high standards and feeling like I was never enough.
I absolutely loved Teo. He was a very fun character and he was just so sweet! However, I hated his friend, Ravi. By the end, he had definitely grown on me though. I also felt bad for Teo at times, mainly because of his father. He never met his father, and just desperately wanted to meet him one day. Plus, his step dad, Buck, was only about fifteen years older than him, so they had a weird relationship since they were so close in age.
In the end, this book is definitely one that I'd recommend. It was silly and sweet all at the same time, and I couldn't stop rooting for the relationship. Plus, it was written in different point of views, which was amazing.