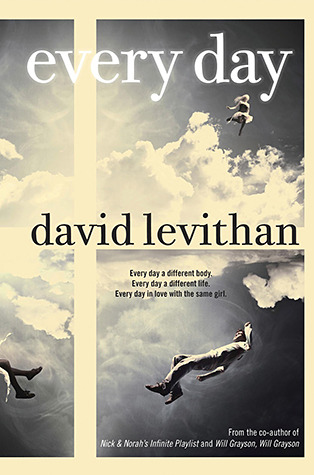 Title:
Every Day
Author:
David Levithan
Publisher:
Knopf Books for Young Readers
Release Date:
August 18, 2012
Genre:
Contemporary
Source:
Library
Edition:
Paperback (322 pages)
Every day a different body. Every day a different life. Every day in love with the same girl. There's never any warning about where it will be or who it will be. A has made peace with that, even established guidelines by which to live: Never get too attached. Avoid being noticed. Do not interfere.
It's all fine until the morning that A wakes up in the body of Justin and meets Justin's girlfriend, Rhiannon. From that moment, the rules by which A has been living no longer apply. Because finally A has found someone he wants to be with-day in, day out, day after day.
I had my eye on this book for the longest time. I mean, the cover is breathtaking and the synopsis is just so intriguing. The idea of someone waking up as someone new every day is just amazing, and then throw in the romantic aspect of the story and I'm completely sold. I'm so glad that I did finally pick this one up from the library, because it was so worth it.
Basically, A wakes up in a different body every day. One day he wakes up as this guy named Justin, who has this wonderful girlfriend named Rhiannon. He realizes that she is so surprised when Justin/A agrees to go on a date with her for the day, because apparently Justin normally doesn't do that so often even though they're dating. A ends up falling for Rhiannon, even though she's in love with Justin.
Each day after waking up as Justin, he's still in love with Rhiannon even though he's in the body of someone else. He seeks out ways to visit her as other people, and she doesn't even know until finally A tells her about himself. The thing is, how is Rhiannon meant to learn how to love someone who doesn't even have his own body?
I have to say that I felt so bad for not only A, but Rhiannon too. She is in such a crappy relationship with Justin and she knows she is. Plus, she has some guy (A) who loves her and actually tries to prove it to her every day, and then poor Rhiannon is just like this:
Yeah. It's tough stuff.
The ending of this book was such a cliff hanger. I need to know what happens next! I can't wait until book two is released.
Notable Quotes
This is what love does: It makes you want to rewrite the world. It makes you want to choose the characters, build the scenery, guide the plot. The person you love sits across from you, and you want to do everything in your power to make it possible, endlessly possible. And when it's just the two of you, alone in a room, you can pretend that this is how it is, this is how it will be.
If there's one thing I've learned, it's this: We all want everything to be okay. We don't even wish so much for fantastic or marvelous or outstanding. We will happily settle for okay, because most of the time, okay is enough.
I notice you, I want to say. Even when no one else does, I do. I will.