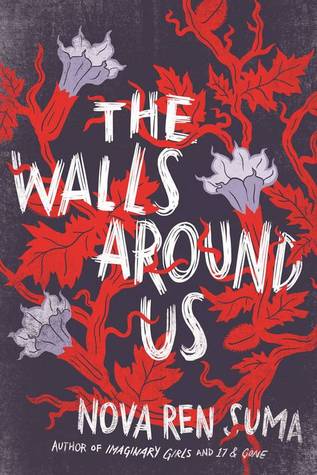 Title:
The Walls Around Us
Author:
Nova Ren Suma
Publisher:
Algonquin Young Readers
Release Date:
March 24, 2015
Source:
Netgalley
Edition:
eARC
The Walls Around Us is a ghostly story of suspense told in two voices-one still living and one long dead. On the outside, there's Violet, an eighteen-year-old dancer days away from the life of her dreams when something threatens to expose the shocking truth of her achievement. On the inside, within the walls of a girls' juvenile detention center, there's Amber, locked up for so long she can't imagine freedom. Tying these two worlds together is Orianna, who holds the keys to unlocking all the girls' darkest mysteries.
We hear Amber's story and Violet's, and through them Orianna's, first from one angle, then from another, until gradually we begin to get the whole picture-which is not necessarily the one that either Amber or Violet wants us to see.
Nova Ren Suma tells a supernatural tale of guilt and innocence, and what happens when one is mistaken for the other.
This book follows two different characters: Violet and Amber. Violet is a ballet dancer whose best friend was Orianna, who was the best dancer at her dancing company. The two of them did a lot together and always made pacts together. On the other hand, Amber is in jail under the terms that she killed her stepfather. She ends up rooming with Orianna in jail. Throughout both of the girl's stories, we get to learn more about this girl named Orianna.
Before I go on to tell my thoughts about this book, I thought I'd take a second to recognize the wonderful writing skills that Nova Ren Suma possesses. Her writing is just so lyrical and beautiful! I loved it so much. It definitely made me want to read more by her, so I'll be sure to check out
Imaginary Girls.
I found this book to be kind of confusing at times, though after finishing it and processing the story for a bit, I feel that it was kind of supposed to be. I don't think that everything was meant to be clear... I think some of it is meant to be up to the reader. At times I had no clue what was going on, though I kept on reading anyway. If you're not someone who can do this, I don't know how much you'd enjoy it!
If you're a fan of the show
Orange is the New Black,
I definitely suggest checking this one out. It definitely had that sort of vibe to it, especially when the story was told through Amber's point of view! I also thought I'd say that I didn't find this story to be predictable at all, which was great. I think I may have to give this one a reread sometime in the future to make sure I understood it all correctly!