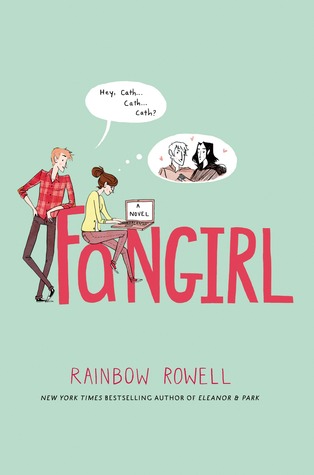 Title:
Fangirl
Author:
Rainbow Rowell
Publisher:
St. Martin's Griffin
Release Date:
September 10, 2013
Source:
Purchased
Edition:
Hardcover (433 pages)
Cath is a Simon Snow fan. Okay, the whole world is a Simon Snow fan... But for Cath, being a fan is her life--and she's really good at it. She and her twin sister, Wren, ensconced themselves in the Simon Snow series when they were just kids; it's what got them through their mother leaving.
Reading. Rereading. Hanging out in Simon Snow forums, writing Simon Snow fanfiction, dressing up like the characters for every movie premiere.
Cath's sister has mostly grown away from the fandom, but Cath can't let go. She doesn't want to.
Now that they're going to college, Wren has told Cath that she doesn't want to be roommates. Cath is on her own, completely outside of her comfort zone. She's got a surly roommate with a charming, always-around boyfriend; a fiction-writing professor who thinks fanfiction is the end of the civilized world; a handsome classmate who only wants to talk about words... and she can't stop worrying about her dad, who's loving and fragile and has never really been alone.
For Cath, the question is: Can she do this? Can she make it without Wren holding her hand? Is she ready to start living her own life? And does she even want to move on if it means leaving Simon Snow behind?
I've heard so many great things about Rainbow Rowell's books, and I had read and absolutely adored
Eleanor & Park.
I was a bit wary because I'd heard that if you liked one you wouldn't really like the author, but that was not the case for me. I loved both!
Fangirl is about a girl named Cath, who is obsessed with Simon Snow. Simon Snow is kind of like Harry Potter, which is pretty awesome. Cath spends a lot of her time writing fan fiction, and she used to love writing it with her twin sister, Wren, though she grew out of it since they're going to be freshmen at college. Cath is not willing to give up Simon Snow because he's become a part of her and has helped her get through some really tough times. She's also a pretty popular fanfic author which is incredibly awesome.
When Cath gets to college, she meets her roommate Raegan. This guy named Levi is always hanging around her, so she assumes that they're dating. It later turns out that they're not. On top of this, Cath gets into a junior-level writing class which she is really happy with. She ends up working with this guy named Nick. They're library buddies and they spend a lot of time writing with one another. For the longest time, I thought that they were going to end up together. After getting to know Nick better, I'm really glad that they didn't. He annoyed the crap out of me.
On the other hand, Levi is so sweet. He's always there for Cath. At one point, he's going home to visit family but finds that Cath has a family emergency so he turns his car around and comes all the way back to visit Cath and make sure that she is okay. Levi drove so long just to go and comfort her. He's so nice to Cath and they make the most adorable couple. I also love how he enjoyed it when Cath read to him. He didn't enjoy reading himself because he said he could never exactly understand what he was reading unless others read to him, so he'd sit quietly and actually listen while Cath read to him. Their relationship was seriously just the best thing ever. They're totally my new favorite YA couple.
I'm so excited that Cath's Simon Snow fanfic is going to be published and I can't wait to read that.
Carry On
will be so good! I'm super glad that I picked this up and I'd highly recommend it if you haven't read it already. Seriously, what are you waiting for?
Notable Quotes:
"In new situations, all the trickiest rules are the ones nobody bothers to explain to you. (And the ones you can't Google.)"
"You give away nice like it doesn't cost you anything."
"I choose you over everyone."
"Real life was something happening in her peripheral vision."
"I don't trust anybody. Not anybody. And the more that I care about someone, the more sure I am they're going to get tired of me and take off."
"Sometimes writing is running downhill, your fingers jerking behind you on the keyboard the way your legs do when they can't quite keep up with gravity."
"How do you not like the Internet? That's like saying, 'I don't like things that are convenient. And easy. I don't like having access to all of mankind's recorded discoveries at my fingertips. I don't like light. And knowledge."
"To really be a nerd, she'd decided, you had to prefer fictional worlds to the real one."
Rating:
Have you read this novel? I'd love to hear your thoughts!