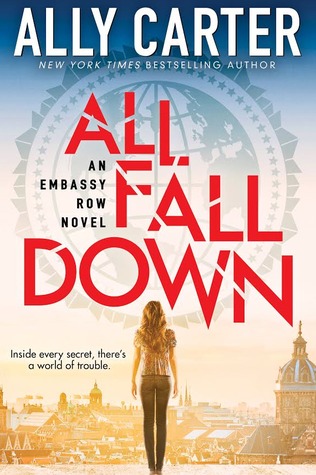 Title:
All Fall Down
Author:
Ally Carter
Publisher:
Scholastic Press
Release Date:
January 20, 2015
Source:
Edelweiss
Edition:
eARC
This exciting new series from NEW YORK TIMES bestselling author Ally Carter focuses on Grace, who can be best described as a daredevil, an Army brat, and a rebel. She is also the only granddaughter of perhaps the most powerful ambassador in the world, and Grace has spent every summer of her childhood running across the roofs of Embassy Row.
Now, at age sixteen, she's come back to stay--in order to solve the mystery of her mother's death. In the process, she uncovers an international conspiracy of unsettling proportions, and must choose her friends and watch her foes carefully if she and the world are to be saved.
**Thank you to Scholastic for giving me a copy of this book to read in exchange for an honest review!**
Grace has come back to Embassy Row to stay with her grandfather in the American house. Her mom was killed in front of her a while ago, though everyone claims that it was an accident though Grace is sure that it wasn't. Everyone keeps telling her it was just because of the fire that burned down their house, though Grace swears it was a man with a scarred face who killer her mom. When she gets to Embassy Row, she's positive that the man who killed her mother is there.
This was my first Ally Carter novel and I have to say that I was completely blown away by how amazing the book was. It was very fast-paced and I didn't see the huge plot twist that came at the end which made me question everything. I absolutely loved the friendships in this book. My favorite one would definitely have to be the one between Noah (from the Isreal and Brazilian houses). He showed up in the middle of the night in Grace's room one night and declared that he was her new best friend. It was the best thing ever! They trust each other and not once did I begin to question that there was a romance between them, which was wonderful because it showed that boys and girls can be friends without romantic feelings attached unlike most YA novels today.
Another friend of hers was Alexei who was from the Russian Embassy. He was very close friends with Grace's older brother and the whole time he was watching over her because of her brother's orders. It was really sweet of him. She also becomes close friends with Rosie, who is this twelve-year-old kid genius and she helps Grace out a lot. There's Megan as well, who Grace was friends with when she was younger.
I read this book very fast because I just had to know what happened next! I had to know which scarred man murdered her mom. I also needed to know why nobody but Noah believed her when she was telling people that her mom was murdered and that it wasn't an accident at all. There's not many books that blow my mind at the end because of how unpredictable they are, but this was definitely one that succeeded in blowing mine. I'd highly suggest giving this one a read, because I guarantee this series is going to be very good! I'm definitely going to have to read the rest of Ally Carter's books!
Rating: