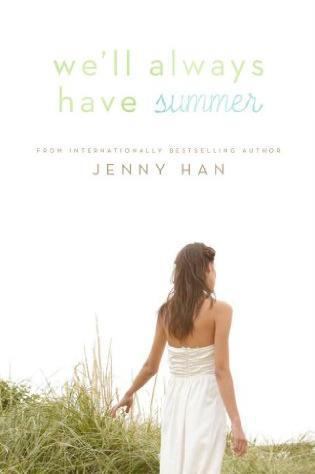 Title:
We'll Always Have Summer
Author:
Jenny Han
Publisher:
Simon & Schuster Books for Young Readers
Release Date:
April 16, 2011
Source:
Purchased
Edition:
Hardcover (291 pages)
Genre:
Contemporary
It's been two years since Conrad told Belly to go with Jeremiah. She and Jeremiah have been inseperable ever since, even attending the same college--only, their relationship hasn't exactly been the happily ever after Belly had hoped it would be. And when Jeremiah makes the worst mistake a boy can make, Belly is forced to question what she thought was true love. Does she really have a future with Jeremiah? Has she ever gotten over Conrad? It's time for Belly to decide, once and for all, who has her heart forever.
Though I really didn't care much for the first book, the sequel left me eagerly waiting for more of this marvelous story. Therefore, I loved this conclusion to the trilogy even more than the prior books. In this third addition to the Summer series, Jeremiah and Belly are finally a couple. After helping Conrad study for his tests, they found that they actually like each other to be in a relationship, and Conrad's approval pushed Belly even more to go with Jeremiah.
Jeremiah is really kind to Belly and he knows that he wants to be with her forever. Belly seems to try convincing herself that Jeremiah is the one for her and that Conrad is in the past and always will be. It's got to be weird being with your ex's brother. Jeremiah and Belly go to the same college and spend many nights together, though Jeremiah begins to kind of be rude to Belly as he always is spending time with his friends partying and drinking; Belly just doesn't like that.
I found this book to be even more interesting than the first two books. I loved how they were finally in college and times had changed greatly. I also loved how Conrad finally came into the story and actually started talking to Belly again. It was really sweet of him. Obviously, I've always liked Conrad much better than Jeremiah, because I feel like Conrad just treats Belly more kindly and with more respect than Jeremiah ever will.
I thoroughly enjoyed this series, so I will definitely recommend it to people! It's a good summer read, or a good read if you're looking for something fun and light and fluffy. I also can't wait to read more by Jenny Han, because her books are really quite enthralling.
Recommended for fans of:
Rainbow Rowell
John Green
Rating:
Have you read this book? I'd love to hear your thoughts!