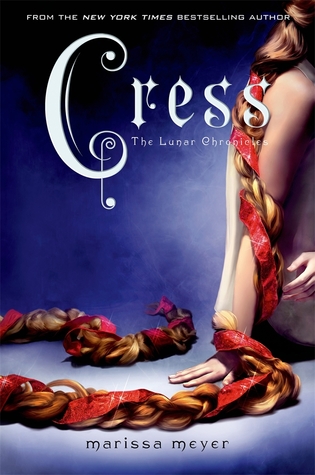 Title:
Cress
Author:
Marissa Meyer
Series:
The Lunar Chronicles #3
Publisher:
Feiwel and Friends
Release Date:
February 4, 2014
In this third book in Marissa Meyer's bestselling Lunar Chronicles series, Cinder and Captain Thorne are fugitives on the run, now with Scarlet and Wolf in tow. Together, they're plotting to overthrow Queen Levana and prevent her army from invading Earth.
Their best hope lies with Cress, a girl trapped on a satellite since childhood who's only ever had her netscreens as company. All that screen time has made Cress an excellent hacker. Unfortunately, she's being forced to work for Queen Levana, and she's just received orders to track down Cinder and her handsome accomplice.
When a daring rescue of Cress goes awry, the group is splintered. Cress finally has her freedom, but it comes at a higher price than she'd ever expected. Meanwhile, Queen Levana will let nothing prevent her marriage to Emperor Kai, especially the cyborg mechanic. Cress, Scarlet, and Cinder may not have signed up to save the world, but they may be the only hope the world has.
As soon as I finished Scarlet, I immediately picked up Cress. I just had to know what happened next!
-what i liked-
THORNE. I freaking loved him. I think he may be my favorite love interest out of all of them and I found his relationship with Cress to be utterly adorable.
There was so much action in this book. I think that's what made the huge book fly by so fast for me!
All the characters were on point. I always love when books have a lot of points of view, but they have to be done a certain way for the reader to actually feel connected to all of them. Meyer introduces characters in such a way where you never feel like there's too many characters. You end up loving them all and feeling close to each and every one of them.
-what i disliked-
I'm going to be honest. I literally hated Cress in the beginning. She seemed so annoying and whiney to me. However, she grew on me as the book went on.
-overall-
LITERALLY LOVED IT. I can't wait until I finally start reading Winter.