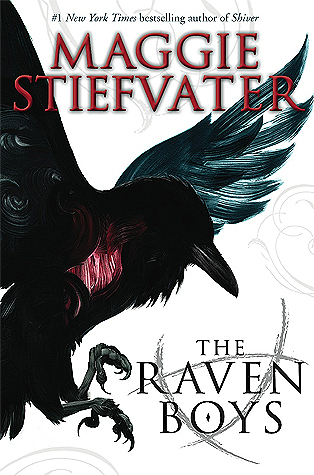 Title:
The Raven Boys
Author:
Maggie Stiefvater
Series:
The Raven Cycle #1
Release Date:
September 18, 2012
Publisher:
Scholastic Press
Edition:
eBook (416 pages)
Every year, Blue Sargent stands next to her clairvoyant mother as the soon-to-be dead walk past. Blue herself never sees them-not until this year, when a boy emerges from the dark and speaks directly to her. His name is Gansey, and Blue soon discovers that he is a rich student at Aglionby, the local private school. Blue has a policy of staying away from Aglionby boys. Known as Raven Boys, they can only mean trouble.
But Gansey is different. He has it all-family money, good looks, devoted friends-but he's looking for more. He is on a quest that has encompasses three other Raven Boys: Adam, the scholarship student who resents all the privilege around him; Ronan, the fierce soul who ranges from anger to despair; and Noah, the taciturn watcher of the four, who notices many things but says very little.
For as long as she can remember, Blue has been told by her psychic family that she will kill her true love. She never thought this would be a problem. But now, as her life becomes caught up in the strange and sinister world of the Raven Boys, she's not so sure anymore.
I don't know if you know this about me, but I'm a massive fan of the
Wolves of Mercy Falls
series by Maggie Stiefvater. So much so that I've read through the series three times. YES. It's literally that good. That's why I was really intrigued by
The Raven Boys.
I mean, that and the fact that so many people have loved this series so I just
knew
that I had to check it out.
what i liked
•There was a massive group of characters and I seriously loved each and every one of them. Except Adam. I didn't really like Adam because he got on my nerves.
•GANSEY. I literally love Gansey. My heart lies with him and I just want him and Blue together.
•Blue was a very different main character. I loved her uniqueness and also that her name is Blue. I mean, how much cooler can it get?
•All the psychic stuff. I am usually not a big fan of books with psychics, though I found this psychic book really interesting. I feel bad for Blue though because she has no psychic powers.
•That plot twist at the end.
•NOAH. I mean, yeah I seriously love Gansey, but Noah is one of my all time favorite characters now. Especially with that plot twist that happened. I'd talk about it more but I don't want to be spoilery!
•The multiple points of view. I seriously love reading from different perspectives regarding the same story.
what i didn't like
•This book was so slow. When I say that, I mean that it took me a ridiculously long amount of time to actually get into it. I didn't expect that from a Maggie Stiefvater book because I've read and loved four of her books and I didn't find them slow at all. Even though it was slow, I wanted to keep reading.
•The book is very character-driven. I don't think that's a bad thing, because I love all the characters. However, if you're a big fan of an action-packed plot, then this book may not suit your fancy.
I gave this book a solid four stars because I really loved the characters and the world, though I found it a little hard to get into. Despite that, the ending made the book well worth the read.
Have you read The Raven Boys? What were your thoughts?