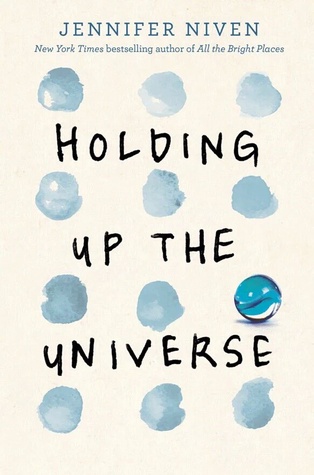 Title:
Holding Up the Universe
Author:
Jennifer Niven
Release Date:
October 4, 2016
Publisher:
Knopf Books for Young Readers
Source:
Publisher
Edition:
ARC
From the author of the New York Times bestseller All the Bright Places comes a heart-wrenching story about what it means to see someone-and love someone-for who they truly are.
Everyone thinks they know Libby Strout, the girl once dubbed "America's Fattest Teen." But no one's taken the time to look past her weight to get to know who she really is. Following her mom's death, she's been picking up the pieces in the privacy of her home, dealing with her heartbroken father and her own grief. Now, Libby's ready: for high school, for new friends, for love, and for EVERY POSSIBILITY LIFE HAS TO OFFER. In that moment, I know the part I want to play here at MVB High. I want to be the girl who can do anything.
Everyone thinks hey know Jack Masselin too. Yes, he's got swagger, but he's also mastered the impossible art of giving people what they want, of fitting in. What no one knows is that Jack has a newly acquired secret: he can't recognize faces. Even his own brothers are strangers to him. He's the guy who can re-engineer and rebuild anything in new and bad-ass ways, but he can't understand what's going on with the inner workings of his brain. So he tells himself to play it cool: Be charming. Be hilarious. Don't get too close to anyone.
Until he meets Libby. When the two get tangled up in a cruel high school game-which lands them in group counseling and community service-Libby and Jack are both pissed, and then surprised. Because the more time they spend together, the less alone they feel... Because sometimes when you meet someone, it changes the world, theirs and yours.
Jennifer Niven delivers another poignant, exhilarating love story about finding that person who's is you for who you are-and seeing them right back.
**Thank you so much to the publisher for allowing me to read this in exchange for an honest review!**
I've heard so many good things about Jennifer Niven's last novel, All the Bright Places. That's why when I had the opportunity to read and review Holding Up the Universe, I took it!
I absolutely loved the characters in this novel, especially Jack. Jack is basically suffering from prosopagnosia, which means that he can't exactly remember what people look like. Everytime he sees someone it's like he's seeing them for the first time. That's why he remembers people by identifiers, such as smiles and hair. Libby was okay. She was once known as "America's Fattest Teen" and has since lost quite a bit of weight. Her story was mainly about gaining confidence.
The romance was quirky and cute. Going into the novel, you could tell that the two of them were going to get together, though it took quite a while for that to actually happen. It probably didn't happen until about 50% through the book, which was quite a bit of a waiting game. But once it actually happened, I loved it.
I felt like a lot of the time I was reading the story for the characters because I loved them so much. They literally both went through so much that ultimately changed them into better people. They had so many ups and downs and at the end of the day they still had each other.
One more thing about the characters: there were different perspectives. I always love alternating perspectives, so that definitely added to my overall enjoyment of the story.
I can't wait until I finally get my hands on All the Bright Places because I know that I want to read it after reading this novel!