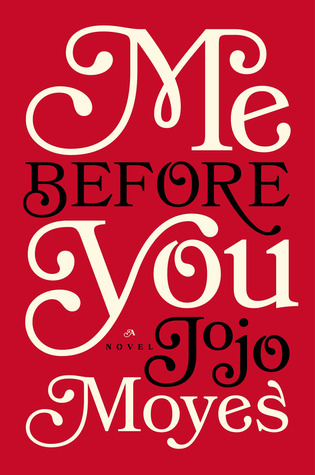 Title:
Me Before You
Author:
Jojo Moyes
Series:
Me Before You #1
Release Date:
January 5, 2012
Edition:
eBook
Publisher:
Viking
Lou Clark knows lots of things. She knows how many footsteps there are between the bus stop and home. She knows she likes working in The Buttered Bun tea shop and she knows she might not love her boyfriend Patrick.
What Lou doesn't know is she's about to lose her job or that knowing what's coming is what keeps her sane.
Will Trainer knows his motorcycle accident took away his desire to live. He knows everything feels very small and other joyless now and he knows exactly how he's going to put a stop to that.
What Will doesn't know is that Lou is about to burst into his world in a riot of colour. And neither of them knows they're going to change the other for all time.
I originally picked up a copy of
Me Before You
because I had seen the movie trailer and it looked absolutely amazing. On top of that, just about everyone was raving about how awesome of a book it was. I don't usually read adult books either, so this book was out of the range of what I'm used to. However, it completely opened me up to something new and I can't wait to read more adult novels in the future.
The novel follows a girl named Louisa Clark who was recently fired from her job. She ends up getting a new job tending to Will Trainer who went through a serious accident in the past which has led him to becoming someone that he never thought he'd be. As the days grow on, the two of them grow seriously closer.
I absolutely loved Louisa Clark. She was always so strong and was always loving life. To be honest, it was kind of inspiring. She made me want to live life the way that I want to live it because life only comes around once. Will Trainer was just as great of a character. He was extremely lovable and I felt terrible for everything that he was going through.
I know for sure that I can't wait to get my hands on
After Me
and I also can't wait for the movie to come out on DVD because I actually haven't seen it yet!