OH MY GOODNESS IT'S ALREADY 2016! I recently had my birthday and I can't believe that another year has gone by. Anyway, onto the books of last month!
Need by Joelle Charbonneau

★★★★☆
From A Distant Star by Karen McQuestion

★★★★☆
Inherit the Stars by Tessa Elwood

★★★★☆
Who Could That Be At This Hour? By Lemony Snicket

★★★★☆
The Trouble With Destiny by Lauren Morrill

★★★★☆
Why is This Night Different From All Other Nights? By Lemony Snicket

★★★★☆
Shouldn't You Be In School? By Lemony Snicket

★★★★☆
When Did You See Her Last? By Lemony Snicket

★★★★☆
A Midsummer Night #nofilter by William Shakespeare and Brett Wright

★★★★★
What You Left Behind by Jessica Verdi

★★★★☆
Frankenstein by Mary Shelley
★★★★☆
Until We Meet Again by Renee Collins
★★★★☆
A Million Miles Away by Lara Avery

★★★☆☆
What's Broken Between Us by Alexis Bass

★★★★★
Illuminae by Amie Kaufman & Jay Kristoff

★★★★★
In A World Just Right by Jen Brooks

★★★★☆
January TBR
This is Where it Ends by Marieke Nijkamp
This Song Is (Not) For You by Laura Nowlin
Not Okay Cupid by Heidi R. Kling
The Girlfriend Request by Jodie Andrefski
Favorite Book of December 2015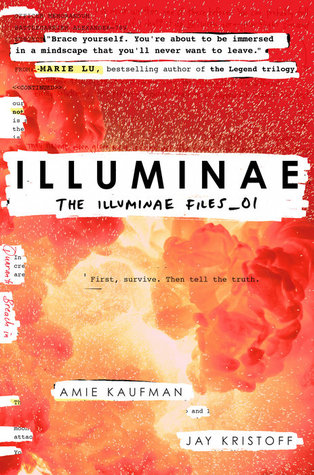 What was your favorite book of December 2015?