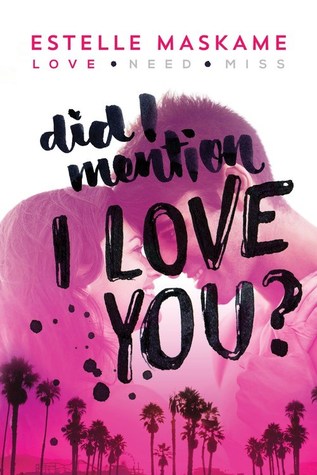 Title: Did I Mention I Love You?
Author: Estelle Maskame
Publisher: SourcebooksFire
Release Date: December 1, 2015
Genre: Contemporary
Source: Netgalley
Edition: eARC
When sixteen-year-old Eden Munro agrees to spend the summer with her estranged father in the beachfront city of Santa Monica, California, she has no idea what she's letting herself in for. Eden's parents are divorced and have gone their separate ways, and now her father has a brand new family. For Eden, this means she's about to meet three new step-brothers. The eldest of the three is Tyler Bruce, a troubled teenager with a short temper and a huge ego. Complete polar opposites, Eden quickly finds herself thrust into a world full of new experiences as Tyler's group of friends take her under their wing. But the one thing she just can't understand is Tyler, and the more she presses to figure out the truth about him, the more she finds herself falling for the one person she shouldn't – her step-brother.

Throw in Tyler's clingy girlfriend and a guy who has his eyes set on Eden, and there's secrets, lies and a whole lot of drama. But how can Eden keep her feelings under control? And can she ever work out the truth about Tyler?

Did I Mention I Love You is the first book in the phenomenal DIMILY trilogy, following the lives of Eden Munro and Tyler Bruce as they try to find their way in an increasingly confusing world.
**Thanks so much to SourcebooksFire for allowing me to read and review this book in exchange for an honest review!**
I've been reading a lot of contemporaries lately, so I figured it was about time to pick up a contemporary read. Did I Mention I Love You? follows a girl named Eden who goes to California for her summer break to go and visit with her dad. Her parents are divorced, so her father lives in a different state. He actually got remarried and is now living with his new wife and her three kids, so Eden has to live with all of them. She's thrown into quite the whirlwind after finding out that one of the brothers is someone she can't help but hate: Tyler.
I fairly enjoyed this book! I really liked Eden as a character and I definitely felt bad for her because of everything that she had been through. Her dad seemed very rude, though he grew on me a bit as I realized that at times he was trying to do what he felt was best for Eden. I also loved that the setting was in California. I absolutely love California and I've been there before, so it was great to know what the area the book was set in was like.
I like how this book touched on topics that aren't really mentioned in YA literature. A relationship begins to blossom between step-siblings, though it's completely kept under wraps between just the two of them. However, I think that they went about the situation in the end in a pretty mature manner. At least Eden did!
I'm pretty pumped for book two because DIMILY was quite an awesome book that was worth the read. Plus, there was such a cliffhanger!
About the Author:
Estelle Maskame started writing at the age of thirteen and completed the Did I Mention I Love You? trilogy when she was sixteen. She has built an extensive fan-base for her writing by serializing her work on Wattpad. Fitting book writing between work, Estelle has amassed followers from all over the world. She lives in Scotland. For more visit estellemaskame.com
Social Media Links:
Excerpt:
I can almost see the road through the gaps in the fence by the side of the house, and I squint through. There's music playing. More like blaring. I can hear it over the crappy music that's already bouncing around the back yard, and as a sleek white car speeds up to the edge of the sidewalk and skids against the curb, I grimace in disgust. The music cuts off the second the engine is killed.
"What are you looking at?" Rachael asks, but I'm too busy staring to even attempt to answer.
The car door swings open roughly, and I'm surprised it doesn't fall straight off its hinges. It's difficult to see clearly through the fence, but a tall guy gets out and slams the door shut just as aggressively as he opened it. He hesitates for a moment, stares at the house, and then runs a hand through his hair. Whoever he is, he looks su-per depressed. Like he's just lost all his life savings or his dog just died. And then he heads straight for the gate.
"Who the hell is this jackass?" I mutter to Rachael as the figure nears us.
But before either of us can say anything more, Jackass decides to hit the gate open with a fist, drawing the at-tention of everyone around us. It's like he wants everyone to hate him. I figure he's probably that one neighbor that everyone despises, and he's only here in a fit of rage because he wasn't invited to the lamest barbecue get-together that's ever been hosted.
"Sorry I'm late," Jackass comments sarcastically. And loudly too, with a smirk on his lips. His eyes flash green as emeralds. "Did I miss anything besides the slaughtering of animals?" He throws up the infamous mid-dle finger to, from what I can see, the barbecue. "I hope you guys enjoyed the cow you just ate." And then he laughs. He laughs as though everyone's expressions of disgust are the most entertaining thing he's seen all year.
"More beer?" I hear my dad call out to the silent crowd, and as they chuckle and return to their conversations, Jackass heads through the patio doors. He slams them shut so hard I can almost see the glass tremble.
I'm stunned. I have no idea what just happened or who that was or why he's just entered the house. When I realize I'm slightly slack-jawed, I close my mouth and turn to Rachael.
She bites her lip and pushes her sunglasses down over her eyes. "I'm guessing you haven't met your step-brother yet."
Don't forget to enter the giveaway!
Enter to Win a Copy of DIMILY & an advance copy of DIMINY. This giveaway is active December 1st-December 31st. Open to US & Canadian residents only:
a Rafflecopter giveaway
Also, book two comes out in March 2016 and book three in June 2016! Keep your eye out for them and check them out on Goodreads!