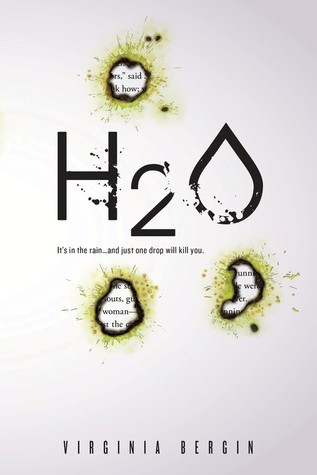 Title:
H20
Author:
Virginia Bergin
Publisher:
Sourcebooks Fire
Release Date:
October 7, 2014
Genre:
Dystopian
Source:
Publisher for Review
Edition:
ARC
It's in the rain...and just one drop will kill you.


They don't believe it at first. Crowded in Zach's kitchen, Ruby and the rest of the partygoers laugh at Zach's parents' frenzied push to get them all inside as it starts to drizzle. But then the radio comes on with the warning, "It's in the rain! It's fatal, it's contagious, and there's no cure."




Two weeks later, Ruby is alone. Anyone who's been touched by rain or washed their hands with tap water is dead. The only drinkable water is quickly running out. Ruby's only chance for survival is a treacherous hike across the country to find her father-if he's even still alive.
**Thank you to Sourcebooks Fire for allowing me to read this in exchange for an honest review!**
If you guys couldn't tell yet, dystopian is my favorite genre. That's why the second I heard about this series, I knew that I had to check it out. I mean, it's a dystopian that's unlike any others! It features rain as the cause for the end of the world. It's just so clever!
H2O followed a young girl named Ruby, who lived with her mom, her step-dad, and their kid. One day while partying with friends, a storm comes. However, this isn't your average storm. This storm has rain that comes down and literally makes you bleed, and ultimately kills you. I know, how scary is that!? She ends up getting home and makes it into her house, though perhaps not everyone in her house will survive that much longer. The rest of the story is about how Ruby tries surviving in this horrid new world.
I have to say, this book completely freaked me out because the downfall of humanity and earth was caused by rain. What makes it even scarier is that it was pouring and thundering outside as I read this! I was almost a little afraid to go outside, though I had to reassure myself that what I had read was all fictional.
I felt so bad for Ruby. Everyone she knew and loved in her neighborhood was dying off, leaving her completely alone to fend for herself. I honestly don't know how I'd have thought to get water in this world. You can't use the faucet or the shower because it will have the poisoned water, and same goes for streams outside. I loved how she and her step-dad went to the grocery store and took water from flower-pots. It's not something that I'd have thought of, that's for sure. After finishing this book, I'm sure to start reading the sequel!