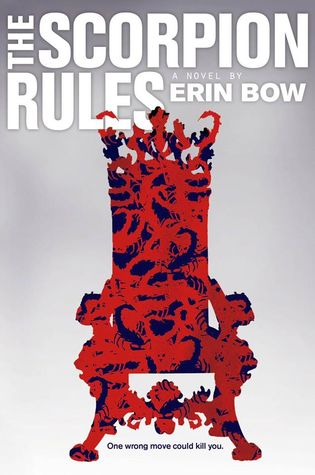 Title:
The Scorpion Rules
Author:
Erin Bow
Publisher:
Margaret K. McElderry Books
Release Date:
September 22, 2015
Genre:
Dystopian
Source:
Netgalley
Edition:
earc
A world battered by climate shift and war turns to an ancient method of keeping peace: the exchange of hostages. The Children of Peace-sons and daughters of kings and presidents and generals- are raised together in small, isolated schools called Preceptures. There, they learn history and political theory, and are taught to gracefully accept what may well be their fate: to die if their countries declare war.
Greta Gustafsen Stuart, Duchess of Halifax and Crown Princess of the Pan-Polar Confederation, is the pride of the North American Precepture. Learned and disciplined, Greta is proud of her role in keeping the global peace, even though, with her country controlling two-thirds of the world's most war-worthy resource-water-she has little change of reaching adulthood alive.
Enter Elian Palnik, the Precepture's newest hostage and biggest problem. Greta's world begins to tilt the moment she sees Elian dragged into the school in chains. The Precepture's insidious surveillance, its small punishments and rewards, can make no dent in Elian, who is not interested in dignity and tradition, and doesn't even accept the right of the UN to keep hostages.
What will happen to Elian and Greta as their two nations inch closer to war?
**Thank you to Margaret K. McElderry Books for allowing me to read this in exchange for an honest review!**
The Scorpion Rules had been on my book radar since I first heard about it. I mean, it sounds incredibly awesome! That synopsis completely drew me in and even that tagline was killer... "One wrong move could kill you".
The story follows Greta, a 17-year-old who is a Child of Peace. Her parents are royal, and she's a hostage. If her parents get into war with another country or territory in this future, then she will be killed automatically. She's lost friends from her school in the past because of this rule. It's just the way that life is now. People aren't even allowed to rule without having a child to turn over to the hostages.
I really liked the start of this story. It was very strong and it was headed in a very good direction. I instantly loved all the characters-especially Sidney. I liked Elian even more when he came along. He was the troublemaker, I mean, what's not to love? Plus he had the same accent as Sidney. However, after a while, things got kind of confusing and I didn't quite know what was happening.
I did love all the characters, don't get me wrong, but at about 50% the story was just too much. I had been expecting Elian and Greta to run away because that kept being hinted at, though that's not what happened. Also, there ended up being a random love triangle which I didn't see coming. I had just been shipping two of the characters so hard and ended up being disappointed because I guess I always end up shipping the one love interest that is never chosen.
Despite the confusion, I will probably pick up book two to give it a chance and see where it goes.