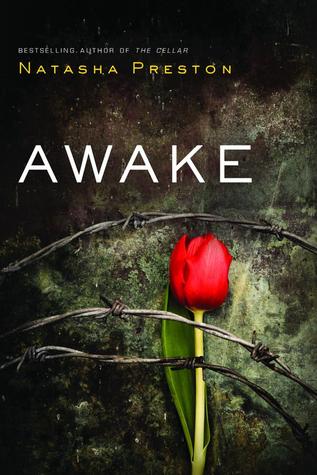 Title:
Awake
Author:
Natasha Preston
Publisher:
Sourcebooks Fire
Release Date:
August 4, 2015
Genre:
Mystery/Thriller
Source:
Publisher for Review
Edition: e
ARC
Scarlett doesn't remember anything before the age of five. Her parents say it's from the trauma of seeing her house burn down, and she accepts the life they've created for her without question-until a car accident causes Scarlett to start remembering parts of an unfamiliar past.
When a new guy moves to town, Scarlett feels an instant spark. But Noah knows the truth of Scarlett's past, and he's determined to shield her from it... because Scarlett grew up in a cult called Eternal Light, controlled by her biological parents.
And they want her back.
**Thank you to Sourcebooks Fire for allowing me to read this in exchange for an honest review!**
I was a bit worried going into this book because I had heard so many negative reviews, though I honestly enjoyed this book.
Awake
follows Scarlett, who happens to be the daughter of two crazy people who started this cult. The people she's living with now, whom she calls mom and dad, are not her actual parents, though she doesn't know this. The second that Noah moves to town (which is literally within the first five pages of the book), she falls for him. Basically this book follows Scarlett as she realizes what her family history really is.
I can definitely see why some people didn't enjoy this book much, because there were a few things I was a bit iffy about as well. First of all, the insta-love. They literally fall in love with each other right when they meet, which was a bit annoying. I'm sure that some people do fall in love with each other as soon as they meet, but it's not exactly realistic and common. Secondly, I didn't find it that odd that Scarlett didn't remember anything from before the age of five. I'm pretty sure I don't really remember anything before the age of five, besides faint memories. I just think that it's not something that's uncommon and not something that should be freaked out about.
However, it's not often that I read a thriller/mystery without being able to find out what's going to happen next, like this book. I didn't exactly know what was going to happen, so that was something new for me that I actually liked. I did enjoy the multiple view points as well, between Noah and Scarlett. I do wish that the cult wasn't mentioned in the summary though, because that made me know what was somewhat part of the mystery. I wish that at least the point of it being run by her biological parents wasn't mentioned.
Despite some of the downfalls, I fairly enjoyed this book and that's why I'm giving it three stars.