Today, I have an awesome book to feature on my blog!
Title: The Many Lives of Ruby Iyer
Author: Laxmi Hariharan
A YA action thriller, with strong dystopian undertones and a kick-ass protagonist, taking you on a white knuckle ride through a disintegrating Bombay City.
An angry young girl, desperate to rescue her best friend.

A sexy cop willing to do anything to save the city he serves.A delusional doctor bent on annihilation.


The Many Lives of Ruby Iyer is a fast paced, gritty, thriller, with strong dystopian undertones and a kickass protagonist, taking you on a white-knuckle-ride through a disintegrating Bombay City.




When Ruby Iyer's best friend is kidnapped by the despotic Dr Kamini Braganza, she will do anything to rescue him. Anything, including taking the help of the mysterious Vikram Roy, a cop-turned-rogue on a mission to save Bombay. The city needs all the help it can get, and these two are the only thing standing between its total destruction by Dr Braganza's teen army. As Bombay falls apart around them, will Ruby be able to save her friend and the city? Will she finally discover her place in a city where she has never managed to fit in? And what about her growing feelings for Vikram?
THE WIND RUSHES by me, screeching in fury. No, it's the girl I am holding in my arms who is screaming, her fear so palpable it throws a shroud of terror over us. Her nails pierce my skin, and she hangs on to me as if worried if she is going to disappear in a poof if she lets go.
I knew what it is to be afraid, to feel powerless, desperation lancing though your nerve-endings. I was there not too far back, in a place I did not recognise … Only I had clawed my way out of that cesspool of fear. I cannot … will not let this happen to someone else.
A nameless strength courses through me, firing up my blood cells; it's stark and alien, filling me with power. I have spent my entire life coming towards this.
Holding on to the girl in that narrow space between the rail tracks, I know I can save her.
There is no going back now.
Trying to cushion our fall, I lock my grip around her. Hugging her around the waist, I swing our joined figures so we spiral over the tracks, then twist my body as if I am an aerial acrobat, so that when we hit the ground on the other side I take the full brunt of our combined weights. Just in time, too; the local train thunders past, its hot, dusty air booming out over us. The dense dust cloud it has disturbed wraps us tight in a cocoon of shared desperation.
The girl's breath is hot, her body heaving as she sobs, pressing her face into my shoulder. I pat her shoulder awkwardly. Damn! It's very disconcerting to see someone else break down like this—what do I say to calm her down? There, there, you almost died; but really, you have nothing to worry about now.
I push the girl off me so she rolls to the ground. While I swing myself up to my feet she lies there crying, paralysed with fear.
Leaning down—thwack—I slap her cheek. "Enough! Pull yourself together," I say sternly, trying not to be pulled in by her wretchedness. Truth is, I am as scared, as relieved that we managed not to be hit by the train as she is. I just can't … won't show it. As long as I act strong, I will stay strong.
I am relieved when the girl hiccoughs once, then her crying subsides.
To my right, the platform is buzzing around the local train, which has come to a stop at the station, disgorging its passengers—it's like water from a broken spout. Like locusts through a cornfield, I feel the excitement of the crowd mounting. The tension of those boarding the train climbs to fever pitch; there they are, embarking on their journey, life rolling on one stop at a time. A man leans over from the open doorway of the train, the space engorged with human flesh packed shoulder-to-shoulder, like asparagus lining a tin can, ready to be devoured.
"Hello, beauty! You want?" He rubs his crotch, grinning ear-to-ear, obviously delighted with himself while the man next to him snickers. I am on the ground next to the train tracks, and no one is worried about my safety. Of course not! All they see is a girl, someone to be harassed because of her sex.
My lightning tree is now throbbing steadily, echoing my heartbeat. It's restive, hungry for more action. I walk up to the train and smile, sweetly fluttering my eyelashes for good measure. He blinks, then looks to the—now silent—man next to him for approval. Making up his mind, he bends towards me. Grabbing his leg, I heave. He flies in a perfect arc above the empty train tracks behind us, hitting the platform edge on the other side before crashing to the ground by the side of the tracks.
"Who's next?" The adrenaline is running high now inside me, bubbling its purple-red storm. I rub my hands over my jean-clad thighs. I can try to clean my palms as much as I want, but they will never be rid of the stench of innocence stolen. Placing my hands on my hips I look up at the now silent wall of manhood. I am breathing heavily as if I have run for miles. Come at me; just come. Give me an excuse to make you feel even a little of the helplessness I have felt.
I feel strong enough to take on the world. I am on a roll. They stare down, all of them, each face echoing the blank look of the next, a chalky facade of incomprehension at what has just taken place.
FREE PREQUEL DOWNLOAD!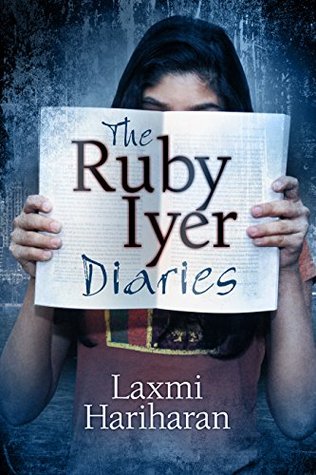 A near life incident told Laxmi Hariharan to write. She never stopped. Laxmi is the author of The Many Lives of Ruby Iyer, which debuted #1 Hot New Release Amazon Asian Lit. You can also download the prequel, The Ruby Iyer Diaries, FREE on Amazon US. She has been a journalist, and a global marketer. Now, she is the creator of Ruby Iyer.
Awesome giveaway for you guys!
Enter to win an e-book of The Many Lives of Ruby Iyer, open internationally!!
Event hosted by:
a Rafflecopter giveaway