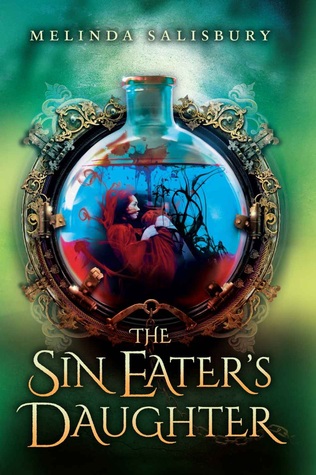 Title:
The Sin Eater's Daughter
Author:
Melinda Salisbury
Publisher:
Scholastic Press
Release Date:
February 24, 2015
Source:
Edelweiss
Edition:
eARC
I am the perfect weapon.
I kill with a single touch.
Twylla is blessed. The Gods have chosen her to marry a prince, and rule the kingdom. But the favour of the Gods has its price. A deadly poison infuses her skin. Those who anger the queen must die under Twylla's fatal touch.
Only Lief, an outspoken new guard, can see past Twylla's chilling role to the girl she truly is.
Yet in a court as dangers and the queen's, some truths should not be told....
**Thank you to Scholastic for allowing me to read a copy of this in exchange for an honest review!**
When I first heard about
The Sin Eater's Daughter,
I didn't think that it had sounded like something I'd enjoy. Then I started seeing countless reviews about how amazing it was, and the more I heard, the more I wanted to read it. Let me just say that after I finished reading, I was absolutely in love with this book.
The reader follows a character named Twylla, who possesses this special power to drink poison and then kill others with just her touch. Everyone in Lormere fears her, because her touch is death. Some people can touch her though, like the Royal family, which includes the man she's betrothed to, Merek, who is the son of the king and queen. Twylla is considered the Daunen Embodied, which means that she is practically the daughter of the two gods which symbolize night and day (I absolutely loved that aspect about the book, but more on that later!). Every week, Twylla's job is to kill those that the Queen and King choose, mostly because they are traitors to the kingdom. Ever since she had to kill her best friend, she hasn't exactly been the same.
This book absolutely blew me away. It was a bit rough to get through in the very beginning because of all the descriptions, though all of it was definitely necessary in order to fully understand this marvelous world that Salisbury has created. My favorite character would definitely have to be Lief, because he was willing to go out of his way to help and understand Twylla when others wouldn't. Her own fiance would barely ever talk to her, even though they were meant to be wed one day.
I felt so bad for Twylla throughout the entire novel. She was literally uprooted from her home because she's the Daunen Embodied. She doesn't even really live her own life-she follows what she's been told her destiny is. She cares so much for her younger sister and since she's the daughter of the Gods she isn't even allowed to see her. I just can't even imagine what that must be like, to be so far away from family but somehow manage to be okay because you know it's your destiny. I'd be so heartbroken.
One of my favorite aspects about this book was the Gods aspect. The people of Lormere believe in two gods, one which symbolizes night and the other which symbolizes day; basically, the good and the bad. Twylla was considered the Daunen Embodied because her touch was lethal (bad) but she had an amazing singing voice (good). I also really loved the idea of a Sin Eater. Twylla's mother was a sin eater and Twylla was supposed to take her spot until she became the Daunen Embodied. A sin eater eats the sins of someone after they've died, so at the funeral she would show up and eat away the person's sins in order to get rid of them all. Different foods would symbolize different sins, which I found to be really interesting.
The ending still has me freaking out and eagerly wanting the next book. It left me with so many questions, which a good first book in a series always does. It goes to show how much a kingdom really does lie and conceal the truth. I just need to know what happens!
Have you read this novel? I'd love to hear your thoughts!