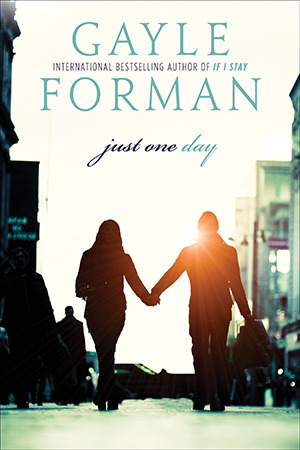 Title:
Just One Day
Author:
Gayle Forman
Publisher:
Speak
Release Date:
January 8, 2013
Source:
Purchased
Edition:
Paperback (369 pages)
Series:
Just One Day #1
Allyson Healey's life is exactly like her suitcase-packed, planned, ordered. Then on the last day of her three-week-post-graduation European tour, she meets Willem. A free-spirited, roving actor, Willem is everything she's not, and when he invites her to abandon her plans and come to Paris with him, Allyson says yes. This uncharacteristic decision leads to a day of risk and romance, liberation and intimacy: 24 hours that will transform Allyson's life.
A book about love, heartbreak, travel, identity, and the "accidents" of fate, Just One Day shows us how sometimes in order to get found, you first have to get lost... and how often the people we are seeking are much closer than we know.
I had heard nothing but great things about this book, so one day I was craving a contemporary read and decided to go to the book store and buy it. I'm so happy that I did! This book instantly became a favorite, but more on that later.
Allyson is your common good girl, and she always does what she's supposed to. When she goes on vacation touring Europe with a group of teens after graduating, she decides to say yes to everything and take risks to do things that she normally wouldn't do. She does just that after meeting Willem, who says that he can take her on a day trip to Paris since her day trip to Paris was cancelled on the tour. She's so excited but scared at the same time. This entire novel is the day in Paris as well as what happens afterwards.
Mainly, the Paris trip takes up about 30% of the book, and then the rest is what happens after. Of course, my favorite part was when she was in Paris with Willem, but after Willem disappears and Allyson ends up going home I was so heartbroken for her. She really started to like him and she felt that he had really liked her too. I couldn't even imagine going through that. I absolutely loved how Allyson stayed true to her feelings for the whole year that followed as she kept trying to find out who Willem really was. All that she knew was that he's an actor and he's Dutch. Her friends keep saying that she's crazy and that she should move on, but she knows that she needs him in her life because she really helped her become who she always wanted to be.
I loved the romance in this book and the connections that were made-even I could feel them. I also love how Allyson stayed true to how she felt and didn't let others get in her way. That's really hard to do, especially when parents and friends are against how you feel. Sometimes, you just have to do what feels right to you and what makes you happiest. It is your life, after all. I flew through this book in a day, and was absolutely blown away. I really can't wait to find out how it all ends in
Just One Night.
This book has really made me want to check out Shakespeare more on my own time instead of just reading it for class readings and also has made me really want to travel Europe. I've always wanted to (I really want to live there) but this book has opened my eyes to the pure beauty over there, and all of the history that it has. It's really interesting. I'm definitely going to be going back to this book whenever I'm in a slump and though I don't reread books often, this will have to be one that I reread in the future just for the sake of loving it.
This book also made me think about life, which I can honestly say no book has ever done before. It made me think about missed opportunities and accidents and putting myself out there. It also made me want to say yes to any opportunity that came my way. It made me want to live life to the fullest and not regret anything. I'm grateful for that.
Notable Quotes:
"I think everything is happening all the time, but if you don't put yourself in the path of it, you miss it."
"Or maybe it's not a miracle. Maybe this is just life. When you open yourself up to it. When you put yourself fin the path of it. When you say yes."
"Part of me knows one more day won't do anything except postpone the heartbreak. But another part of me believes differently. We are born in one day. We die in one day. We can change in one day. And we can fall in love in one day. Anything can happen in just one day."
"Sometimes the best way to find out what you're supposed to do is by doing the thing you're not supposed to do."
"I realize then that it's not enough to know what someone is called. You have to know who they are."
"You have to fall in love to be in love, but falling in love isn't the same as being in love."
"And that's when I understand that I have been stained. Whether I'm still in love with him, whether he was ever in love with me, and no matter who he's in love with now, Willem changed my life. He showed me how to get lost, and then I showed myself how to get found."
"Sometimes you can only feel something by its absence. By the empty spaces it leaves behind."
Rating:
Have you read this novel? I'd love to hear your thoughts!