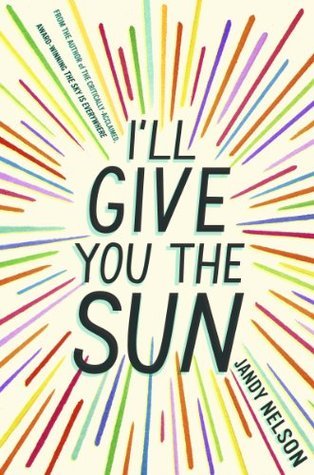 Title:
I'll Give You the Sun
Author:
Jandy Nelson
Publisher:
Dial Books
Release Date:
September 16, 2014
Source:
Purchased
Edition:
Hardcover (371 pages)
Jude and her twin brother, Noah, are incredibly close. At thirteen, isolated Noah draws constantly and is falling in love with the charismatic boy next door, while daredevil Jude cliff-dives and wears red-red lipstick and does the talking for both of them. But three years later, Jude and Noah are barely speaking. Something has happened to wreck the twins in different dramatic ways... until Jude meets a cocky, broken, beautiful boy, as well as someone else-an even more unpredictable new force in her life. The early years are Noah's story to tell. The later years are Jude's. What the twins don't realize is that they each have only half the story, and if they could just find their way back to one another, they'd have a chance to remake their world.
I'll Give You the Sun
follows a set of twins: Jude and Noah. I really don't want to give a summary of this book, because I feel like if I do, I'll be giving away too much and I don't want that to happen. So instead, I thought I'd just give my thoughts after reading.
First of all, I love how everything connected perfectly. You'd be reading from one perspective and then you'd read from the other and you'd realize that they were both talking about the same person, and it literally just blew my mind when I'd realize those sorts of things. Also, the characters in this book were just amazing. I loved all of the relationships that were torn apart and then formed back again; watching each character grow older and see how they change as people. It was just an interesting thing to read about.
An awesome aspect of this book is that it's told in two different perspectives through two different perspectives. Jude tells the twin's story at age 16, while Noah tells the twin's story at age 14. It's great to see how much they changed between those two times. Art played a major role in this book, which was quite a unique spin. I'd never read a book where art was such a huge part of the story, so it definitely added to the reading experience for me.
My favorite of the two twins would have to be Jude's, just because I enjoyed her side of the story more. Noah's story was okay, though at times I got a bit bored. My favorite character would have to be Oscar though. He was so sweet and nice and I loved everything about him. He was just an all-around fantastic character. I'd definitely recommend this book to friends and I'll be sure to pick up Jandy Nelson's other novel.
Notable Quotes:
"Maybe some people are just meant to be in the same story."
"Meeting your soul mate is like walking into a house you've been in before-you will recognize the furniture, the pictures on the wall, the books on the shelves, and the contents of drawers: You could find your war around in the dark if you had to."
"You have to see the miracles for there to be miracles."
"People die, I think, but your relationship with them doesn't. It continues and is ever-changing."
"When people fall in love, they burst into flames."
"His soul might be a sun. I've never met anyone who had the sun for a soul."
Rating:
Have you read this novel? I'd love to hear your thoughts!